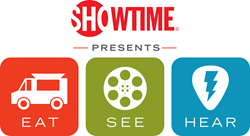 Los Angeles, California (PRWEB) June 09, 2015
Eat|See|Hear, Los Angeles' premier outdoor movie in the park, food truck and live music event series, will be in Griffith Park on Saturday, June 13, to showcase the award-winning film, The Grand Budapest Hotel. This event will be held at the South Lawn of the Autry National Center, located at 4700 Western Heritage Way. Showtime is at 8:30 p.m.
Set between the first and second World Wars, The Grand Budapest Hotel recounts the adventures of Gustave H., a legendary concierge at a famous hotel from the fictional Republic of Zubrowka, and Zero Moustafa, the lobby boy who becomes his most trusted friend. The story involves the theft and recovery of a priceless Renaissance painting and the battle for an enormous family fortuneall against the backdrop of a dramatically-changing continent. Directed by Wes Anderson, the star-studded cast includes Ralph Fiennes, F. Murray Abraham and Mathieu Amalric.
Doors open at 5:30 p.m. to allow movie goers plenty of time to get settled before the movie starts. Since this venue is a grassy lawn, movie goers should bring pillows, cushions and blankets to sit on during the show. Low beach chairs are also allowed for seating, but should be short-legged (no more than 6 inches off the ground).
If you have a tall chair, like a lawn chair or camping style chair more than 6 inches off the ground, you will be required to sit outside the center of the venue, which is marked with signs on both the left and right side of the venue, notes Sharon Sperber, co-owner of Eat|See|Hear.
At 7:30 pm, the LA-based chillwave band, Mansions on the Moon, will take the stage, performing their melodic amalgamation of soft rock and dream pop. The band debuted in 2010 with vocalist Ted Wendler playing the guitar, Ben Hazlegrove at the keyboard, Lane Shaw at the drums and Jeff Maccora at bass. Since then the group has released several albums, and has been selected as one of New Music Seminars Top 100 Artists on the Verge for 2015. You can hear their song Full Moon in this Eat|See|Hear video https://youtu.be/N-hnH3zUQR0.
Plenty of food trucks will be on hand during the evening, offering a variety of snack foods and meals. The lineup includes Belly Bombz, Brasil Kiss, Canvas Foods, Coolhaus, Slanging Corea, Slummin Gourmet, Son of a Bun, Steamy Bun and more. Food trucks will be open for business at 5:30 p.m.
Movie patrons can park for free in the Los Angeles Zoo parking lot, which is across the street from the Autry. From there, it is just a short walk to the South Lawn. For people who may be biking in, there are racks for parking bicycles for free as well.
Tickets can be purchased at the door or in advance. Advance general admission tickets are $ 12 each for adults ($ 14 at the door), $ 8 for children under 12 years old, and free for children 5 and under.
Buying your tickets in advance is the way to go, because you will automatically be entered to win a R/T flight to Auckland, courtesy of Air New Zealand, advises Sperber.
In addition to general admission tickets, a limited number of Air New Zealand Fashionably Late passes are available for purchase in advance at the Eventbrite website, granting seating in a reserved area, regardless of arrival time.
As is true for every Eat|See|Hear event, movie-goers are welcome to bring their canine companions with them to the event. Dog owners are asked to bring water and water bowls, dog treats, and waste bags to keep their pets happy during the show and clean up after them.

For further information about Eat|See|Hears The Grand Budapest Hotel event, or to see the summer 2015 movie schedule, visit eatseehear.com.
About Eat|See|Hear

Voted Best Outdoor Movie Series by Los Angeles Magazine in 2014, the Eat|See|Hear outdoor movie, food truck and live music series brings an evening of fun to Los Angeles-area venues each summer. The fourth annual series is presented by SHOWTIME NETWORKS, featuring up-and-coming bands from the local music scene, the hottest food trucks and the largest inflatable movie screen on the west coast with the highest quality HD-projection with a 52-foot wide image and professional sound. Eat|See|Hear promises an enjoyable movie-going experience for everyone, including dogs. Each event and is produced by LA-based Trailhead Marketing, Inc. For more information visit http://eatseehear.com.
VideoViralViews.com
Mobile LED truck, mobile billboard truck, mobile digital billboard